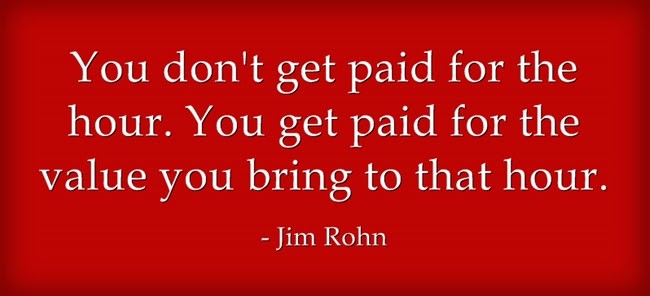 You will no doubt have successful interviews but are you really ready for that big salary hike and the jump in benefits? Before you even start job hunting you'll want to do everything you can to increase your personal brand equity. This means you'll have to audit yourself personally, professionally, physically and financially. The following 7 Steps will help you reach the upper end of the range of what the company can handle. But first, it's time to self-evaluate if you are ready.
1.
First and foremost, I found the biggest salary hikes are due to employees becoming aware of their own brand equity. Hence, the number one thing you will have to do is audit your personal brand image. Every company culture is different, so do your research ahead of time and find out what the corporate culture is like. If the IT department is jeans casual, then by all means show up to the interview in jeans, but pay attention to details such as a crisp ironed shirt, polished shoes and personal hygiene. It still surprises me that in this day and age some candidates are not aware that they lose brand equity due to lack of personal hygiene or sometimes due to lack of professional image. In short, if you don't look and act the part you may not get paid the part.
2.
Invest in a leadership training and/or upgrade your technical training. Your market value is a combination of your past experience, training, and your projected future contributions. If you are seeking to increase your brand equity, invest in yourself and take a leadership course to help you increase your ability to communicate, lead and inspire.
3.
Audit your social media websites. Improve your LinkedIn accounts. Place a professional photo on your LinkedIn Account and update your profile with some hypnotic copywriting. Your LinkedIn profile is a window into your world. Make sure that you update every section of your account listing all of your training and skills. Linkedin affords you the opportunity to be an excellent self-promoter. Take advantage of this and leverage your account.
4.
Improve your social clout by contributing to peer-to-peer groups both online and in your circle of influence. Contribute articles to ezines. Offer to speak at events. Become pro-active at increasing your social clout to improve your corporate profile. Take an opportunity to build your tribe by creating your own Meet-up group and/or Linkedin group.
5.
Are you skilled at negotiations? If not, allow your recruiter to negotiate your salary and package. The most professional way to handle this topic during an interview is to say something like "I'd love a tour or learn a little more about the corporate culture to have this discussion with you. For me, a package has to afford a combination of good people, good talent and good processes. Would it be okay to ask you a few questions?" Postpone salary discussions and let the employer tip his/her hat first by allowing them to bring up the numbers. If they insist by asking you to commit to a number, then simply answer the question with a question and say "What did you have in mind?" Remember; let them tip the number first. However, keep in mind that a recruiter may already know the low-range and the high-range of the particular job. In most cases, they can confidently advise you of salary expectations prior to scheduling your interview. The IT recruiter in Toronto can also assist with negotiations when it comes to benefits and vacation.
6.
Invest time in improving your public speaking and communications skills. Leaders influence through the art of communication. They learn how their posture can negatively or positively impact their image. They learn key body language skills their employers or team members may be consciously or subconsciously judging them on. They learn how to dramatically improve their own lives and the lives of others by learning everything they can about becoming an influencer. How you perform in meetings, boardrooms, conferences, tradeshows, in groups and/or one-on-one will largely determine your career path. The fastest way to increase your market value is to work on both your personal and professional development skills. Training is key.
7.
Repeat steps 1-6. Leaders are always in the process of learning and training. There is always another level.
"You are capable of more than you know. Choose a goal that seems right for you and strive to be the best, however hard the path. Aim high. Behave honorably. Prepare to be alone at times, and to endure failure. Persist! The world needs all you can give." – E.O. Wilson